Genuine Porsche Oil Filters
Is it time for an oil change? If so, you may also need a new oil filter. It's designed to remove contaminants from the oil. If your filter is dirty, debris in the oil gets into the engine and can gum up the engine, causing other parts to malfunction and fail. Bad oil can reduce your engine performance, lower the horsepower and reduce mileage. You may notice an oil smell inside the car, exhaust smoke, engine noises/knocking, or the oil light might turn on. Get your Porsche a brand-new oil filter at the first sign of trouble through Harper Auto Parts. At Harper Auto Parts, we provide our customers with only the highest-quality oil filters possible for all Porsche models. Made for Porsche vehicles by Porsche manufacturers, these oil filters are guaranteed to give your vehicle the pristine, contaminant-free oil it deserves. With us, your vehicle will keep going, day after day. Find the best-fitting set of oil filters for your exact ride, and enter in your vehicle's VIN or make, model, and year, and then Harper Auto Parts will show you which will perform the greatest. Then, you can choose the oil filter that best fits your price range, and soon, your selection will arrive right at your doorstep. Easily installed and low-maintenance, our OEM oil filters are some of the best of the best. See for yourself, and start shopping for your vehicle repairs through Harper Auto Parts today.
Oil Filter
Other Names:
Engine Oil Filter
Description:
Without turbo. 928 GTS.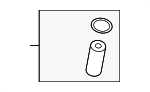 OIL FILTER WITH SEAL
Other Names:
Engine Oil Filter Element
Replaces: 958-115-441-10, 958-115-466-00, 958-115-562-00
Description:
Macan. 2.0l. 2.0L, 2019-22. Incl.Gasket. 2.0L, 2017-18.
Notes:
Included with filter assembly. Included with oil filter housing.
No results found for "oil filter". Here are some helpful search tips:
Search by a part name. Example:

water pump

.
Be less specific. Example:

brake

instead of

ceramic brake

.
Remove information such as make, year or model.
Can't find the part you are looking for? Contact us and

we'll find it for you!